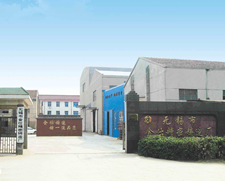 Wuxi Jinshi Precision Casting Plant was founded in 1999, located at Fuan Village, Hudai Town, and at Yang Crook, one of Eighteen Crooks of beautiful Taihu Lake, near Lingshan Grand Buddha scenic area, covering an area of 2.471 acres and owning 4 standard workshops. It is a professional investment casting factory and mainly uses three technologies such as low-temperature wax sodium silicate precision casting, middle-temperature wax silica sol precision casting and compound.
From categories the main products can be divided into: 1. Castings used in the foreign petrochemical, engineering & marine industries: such as impeller, pump, valve, floor drain, flange etc. They are mainly exported to the areas such as USA, Taiwan & European Regions and Japan; 2. Parts of mechanical transmission: such as universal yoke , coupling casting; 3. Castings used in the food industry; 4. Parts used in the auto industry; 5. Project accessories, boiler accessories; 6. Logistics accessories etc in the auto production line. From materials the main products can be divided into: 1. Straight carbon steel: such as Wcb, Wcc, ZG270-500 etc; 2. Alloy steel (Cr-Mo-Ni): such as 8620, 4140, ZG35CrMo; 3. Stainless steel: such as 1Cr18Ni9, 304(CF8), 316(CF8M) & 316L(CF3M); duplex phase stainless steel: such as S31803, 1.4460 etc; 4. Heat-resistant steel: such as 0Cr25Ni20, A297 (HK) etc; 5. Copper casting & aluminum casting: such as C83600, A356 etc. The material element can use the tracking mode and the specific implementation should be in terms of standards such as GB, ASTM, BS, ISO, JIS, DIN etc. The casting weight can be variable from 0.005kg to 250kg.
Now the factory mainly has equipments such as 2 sets of whole equipment of wax presser system, 1 set of 100kg medium-frequency induction furnaces, 1 set of 250kg medium-frequency induction furnaces, 1 set of 500kg medium-frequency induction furnaces, 2 hook type airless shot blasting machines & 2 apron type airless shot blasting machines, 3 runner roasting furnaces, 1 set of resistance heat-treatment equipment, 2 sets of abrasive blast equipments, whole furnace front chemistry analysis equipment & German Spectro direct reading spectrometer, and the factory is equipped with corresponding testing equipments & instruments, and has the capacity to produce 900 ton precision steel castings each year; the factory is still equipped with CNC machine tools such as lathe, milling machine, plane machine, drilling machine etc and has some processing capacities.
The company has achieved the total quality management in the quality management, passed ISO9001:2000 standard certification, passed the inspection of Wuxi Product Quality Supervision Administration each year and the product percent of pass has been in control of more than 95%.
We have won the trust of customers with the best-quality products & first-class services and your guidance, investigation, cooperation or investment to our factory is warmly welcome.